2019 Toyota RAV4 Reviews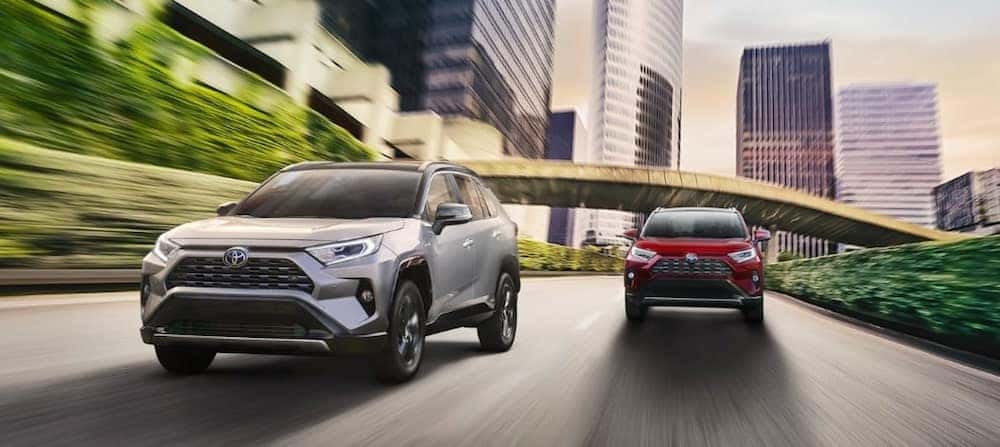 Critics and customers alike have great things to say about the 2019 Toyota RAV4. According to the experts at Autotrader, the most recent version of this celebrated crossover is "a radical departure from its predecessor, signaling a change in overall philosophy: from more of a car like design, to something more akin to more rugged SUVs."
While big changes might make some drivers nervous, we think this year's updates provide many more reasons to get excited. Take a closer look at the 2019 Toyota RAV4 reviews to learn more!
2019 Toyota RAV4 Reviews: Critics and Experts
At the end of the day, most drivers just want to choose a car that offers more than its competitors. For the "best-selling small SUV on the market" (Edmunds), outclassing competitors is no challenge:
Edmunds writes that "Few vehicles reflect the sensibilities of the American car-buying public like the Toyota RAV4."
The U.S. News, comparing the 2019 Toyota RAV4 vs. 2019 Honda CR-V, states that "The Toyota is a bit more powerful, however, and it gets slightly better gas mileage."
Autotrader recommends the RAV4 XLE trim level, but the experts "don't think you can go wrong" if you decide to opt for this crossover.
Other models like the Honda CR-V and the Subaru Forester can compete with the RAV4 by offering more cargo space or standard all-wheel drive, but no challenger offers the balance of features or the all-around capability that has made the RAV4 so popular. Critics have offered tons of praise for the newest generation:
Car and Driver says that "the RAV4 rides and steers far better than it ever has," and they've celebrated its "solid and satisfying feel, with a nicely weighted steering rack and controlled body motions."
The writers at Kelley Blue Book note that the new RAV4 suspension guarantees "better handling and reduced body roll. That makes the 2019 RAV4 feel sharper and more precise, a huge difference from the previous generation."
If you've been researching hybrid vehicles, you'll definitely want to take heed of Autotrader's sage advice: "Just make sure to consider the RAV4 Hybrid model that provides more power and much better fuel economy for a surprisingly affordable price premium of $800 over a comparable regular RAV4 with AWD."
What Are the Toyota RAV4 Consumer Reviews Saying?
We could spend all day telling you about the RAV4 reviews we've received from our friends and neighbors, but we think this crossover's incredible sales numbers speak for themselves. The experts at Cars.com have reported that more than 400,000 RAV4 models were sold in the last year alone!
If you'd like to find out what other 2019 Toyota RAV4 customer reviews are saying, don't hesitate to reach out to an expert at Frontier Toyota. We'll give you all of the info you'll need, and if you're ready to judge for yourself, we can even set you up with a test drive!
Find a New Toyota RAV4 for Sale at Frontier Toyota!
The 2019 Toyota RAV4 is available now at Frontier Toyota in Valencia, and there's never been a better time to get behind the wheel of a Toyota crossover or SUV. Check out the Toyota RAV4 price, our new Toyota RAV4 lease deals today, or take a moment to browse our new Toyota RAV4 inventory. No matter which option you settle on, we can't wait to see you driving off to your favorite golf courses in Van Nuys.
---
Learn More at Frontier Toyota